"To sell chemotherapy as a 'therapy' is most likely the biggest deceit in the history of medicine. Whoever masterminded this chemo-torture deserves a monument in hell."—-Dr. Ryke Geerd Hamer
Alternatives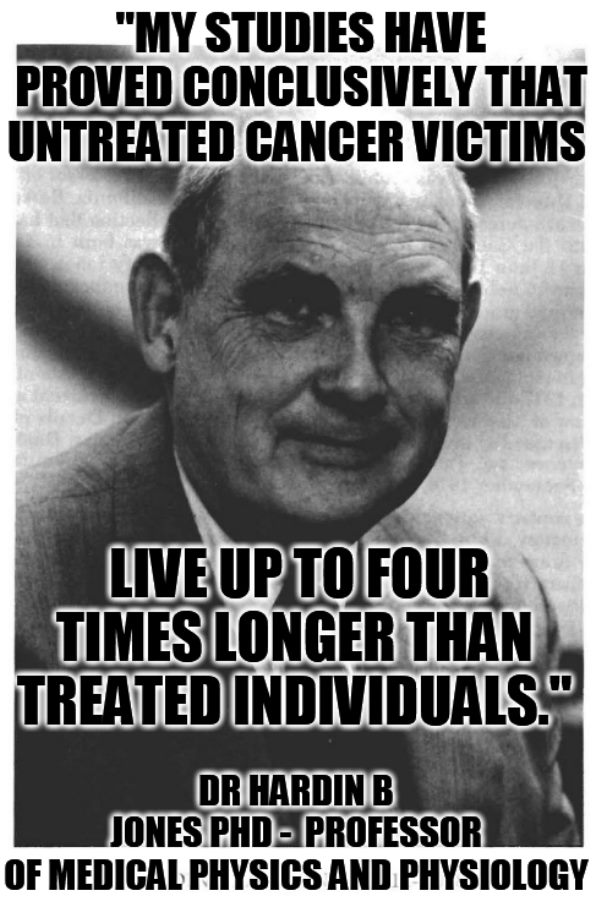 Gerson Therapy
Urine Therapy
Laetrile AKA Amygdalin AKA Vitamin B17
Intravenous High Dose Vitamin C
Hyperthermia
Hydrotherapy
Enzyme Therapy
Lymph Therapy
New German Medicine
Oxygen Therapy
Naturopathic Herbalism
Hoxsey Formula
Essiac
Bio-Electric Therapy
Black Salve
Selenium Therapy
Metabolic Therapy
Immuno-Augmentative Therapy
Krebiozen
Antineoplaston Therapy
Orthomolecular Treatment
Cannabis Oil
Ultraviolet blood irradiation
A German epidemiologist from the Heidelberg/Mannheim Tumor Clinic, Dr. Ulrich Abel has done a comprehensive review and analysis of every major study and clinical trial of chemotherapy ever done. His conclusions should be read by anyone who is about to subject themselves to chemotherapy.
To make sure he had reviewed everything ever published on chemotherapy, Abel sent letters to over 350 medical centers around the world asking them to send him anything they had published on the subject. Abel researched thousands of articles: it is unlikely that anyone in the world knows more about chemotherapy than he.
The analysis took him several years, but the results are astounding: "Abel found that the overall worldwide success rate of chemotherapy was "appalling" because there was simply no scientific evidence available anywhere that chemotherapy can "extend in any appreciable way the lives of patients suffering from the most common organic cancers." Abel emphasizes that chemotherapy rarely can improve the quality of life.
He describes chemotherapy as "a scientific wasteland" and states that at least 80 percent of chemotherapy administered throughout the world is worthless, and is akin to the "emperor's new clothes" – neither doctor nor patient is willing to give up on chemotherapy even though there is no scientific evidence that it works!" – The Lancet (the most respected medical journal in the world)
CHEMOTHERAPY and their consequent side effects (as listed in the drugs package inserts for physicians), which include: destruction of the immune system, leukopenia, hemorrhage, gonadal suppression, bone marrow depression, phlebosclerosis (hardening of the veins), severe cellulites, vesication(blistering), tissue necrosis(death), fever, chills, nausea, prolonged vomiting, partial or total hair loss, lethargy, disorientation, ataxis(inability to coordinate muscle movements), dysarthria( impaired speech), anorexia, entertitis, stomatitis, erythema, (morbid redness of the skin), anemia, liver failure, kidney failure, cancer, and death.
For decades there has been a great deal of controversy within the medical community over what kind of medical treatment is most efficacious in treating cancer.
Latest findings reveal all conventional medical treatment for cancer is not helpful. The late Dr. Hardin B. Jones, Professor of Medical Physics and Physiology at Berkeley, California, made a study lasting 25 years of the lifespan of cancer patients, and concluded that untreated patients do not die sooner than patients receiving orthodox treatment, (surgery, radiation and chemotherapy), and in many cases they lived longer. After almost 40 years as a cancer researcher, Dr. Jones found for example that survival in breast cancer is four times longer without conventional treatment. He stated, "People who refused treatment lived for an average of 12 and a half years.
Those who accepted other kinds of treatment lived on an average of only 3 years." It is important to note that no refutations of Dr. Jones work have appeared, while on the other hand, his studies have been supported by other researchers, as a search of the Science Citation Index reveals.
Even the Journal of the American Medical Association took note of the phenomenon when, in its diagnosis and treatment of breast cancer by Dr. Maurice Fox, a biologist from the Massachusetts Institute of Technology. On the basis of studies carried out at the Harvard School of Public health, Dr. Fox found, among other things, that: Those who refused medical procedures had a lower mortality rate than those who submitted.
Credit: Alex Steblowsky